Main content starts here, tab to start navigating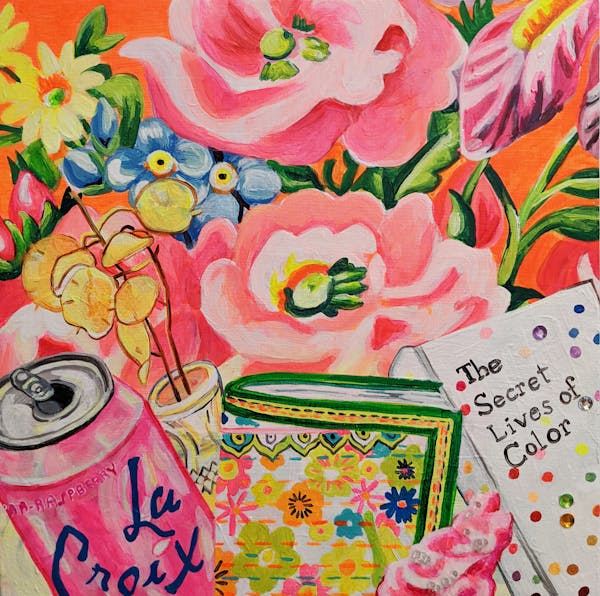 Mary Younkin: FLOWER POWER
MARY YOUNKIN: FLOWER POWER
LIVE Friday March, 5th 2021 8pm EST
Mary Younkin: Flower Power
Please join us as Mary presents her paintings on view in our current exhibition, Flower Power,
opening this week, and on view through March 22, 2021.
Following her presentation, Sunny's curator Erin & Krista will lead a Q &A.
Register in advance for this meeting HERE
After registering, you will receive a confirmation email containing information about joining the meeting.

About the Artist:
Brooklyn based painter, Mary Younkin, has crafted her visual storytelling technique combining elements of still life, portraiture and design, with a painterly pop-art approach. Her feminist storylines often include personal talismans as well as found objects. Mary received her BFA from the California College of the Arts and an MFA from Parsons the New School for Design. A collection of her work is represented by Collective 131.
Artist Statement
I am a narrator, depicting everyday objects, space, and portraiture. I explore the everyday by arranging personal subjects such as books, plants, crystals, and cats in domestic interiors or fictitious landscapes. I employ light, line and unapologetic color to draw attention to a female storyline with its power dynamics and curiosities. Inspired by a west coast aesthetic, my vibrant palette often includes fluorescent pigments, creating a disquieting scene. I bring these still moments to life with this state of intensity, heightening the narrative and time stamp in contemporary culture. My paintings are a rebuke to the current moment. They transcend it while at the same time address a past of women artists being left out of (art) historical documentation.
This recent body of work, Flower Power, was primarily created during the past months of the COVID 19 pandemic and is a response to the political climate leading up to the presidential election. A reference to the flower power movement of the 1960s, flowers are emblems of resistance and feminine power. These paintings are a rebuke to this moment, providing a burst of color and joy as the world turns dark.
http://www.maryyounkin.com/
Exhibitions curated by Krista Dragomer and Erin Treacy